Hello all!
I just joined this forum! Whee!
I am going to the House on the Rock/American Gods party in October, but as I don't have a particularly godlike countenance, I decided to go as another Gaiman character...Door, from Neverwhere. I happen to think I look rather a lot like her (or at least the way she's described in the book, which is what I"m going for). Here are some photos of me for reference: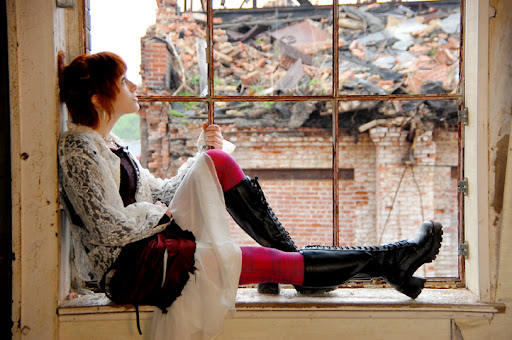 These are from a previous incarnation of a Door outfit that I made from some thrift-store bits and pieces a while back. However, i want this costume to be MORE AWESOMER...since Neil himself is judging the costume contest, and I could win a ride on the World's largest Carousel!!
As a note, I am a fashion design student and seamstress by trade.
Anyway, here are the materials that I have gathered for this project:
Ignore the other crap on the floor...my workspace is a mess >_>;;
These are the fabrics I have so far. From left to right, clockwise:
offwhite chiffon, some kind of purplish twill, burgundy lace, white lace, cream lace, burgundy velveteen in the center, burgundy crinkle satin, and fancy brocade.
The description of her outfit is sort of vague, just saying that she has lots of layers of various fabrics on. I am thinking of making a vest-like contraption from the brocade, but I"m not sure what else to do. Any suggestions?
Also, i know it's a bit premature to think about footwear, but here are my options:
Engineer boots (dirty 'cause they're my explorin' boots)
Victorian-style boots
And my ass-kicking stompy boots (as seen in the above photos)
WHich do you like best?
I also collect old keys, which I'd like to incorporate into the outfit in some way, since I think keys are an appropriate emblem for the character of Door XD Here are just a few of my collection:
But I have a ton of them.
Anyway, any input you have would be appreciated! I know that the way I picture the character is certainly not the way everyone else may picture her, so I'd like to hear your opinions.
Thanks!