okay, remember a short while back i posted that i'd discovered a limertilly hiding on myshelf.
he's since made it out onto my desktop (and told me his name is Fred!)
after moving out of the shelf and onto the desk he started getting adventurace and wanted to travel more.
so, we went to the river at Durham.
and then down to the beach
where he had much fun playing in the sand...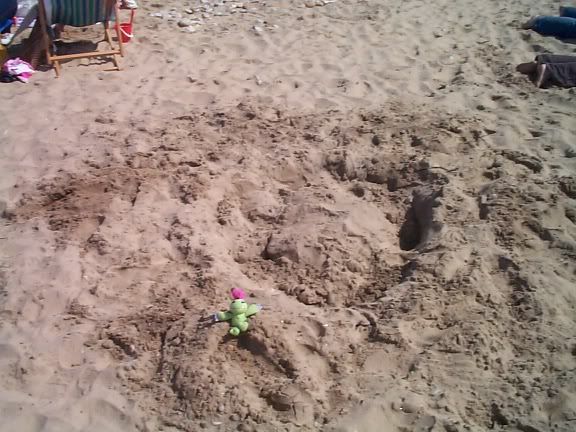 and to cut a long story short, he's no longer happy sitting on my desk and wants to travel the world (he also wants fame if not fortune and would appricate anyone who'll give him a home for a couple of weeks to post the pictures of his travels here).
he's very small and light and is more than happy to travel in a jiffy bag.
so, who can give him a home, show him the sights, take a few pictures so we can all share in his adventures and then send him on again?
~
I prefer to live in a country that's small, and old, and where no one would ever have the NERVE to wear a cape in public, whether they could leap tall buildings in a single bound or not.
the parrot... ...gets tiresome.
the parrot... ...i ate him.
CHIKKINZ?